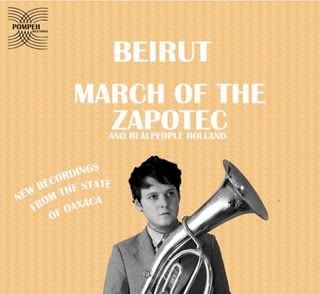 March of the Zapotec/Realpeople Holland
by Beirut / 2009
It's here, it's here! Okay, it isn't
here
. The new Beirut dual EP,
March of the Zapotec
/
Realpeople Holland
, is actually due to be released on February 17th, but being the overexcited votary that I am, I've used my mad downloading skills to snag a leaked copy (horrible, I know, but I've never been a fan of delayed gratification). I am, however, a huge fan of Beirut, and, regardless of whether anyone is interested or not, here is where I shall expend my ridiculous amount of fan girl bias and glee.
The new EP is a treat, a delectable little morsel of the rich, boisterous Balkan orchestra that is Beirut. But it really isn't much more. This release isn't startlingly fantastic or over-the-top, but it
is
Beirut, and it
is
a brilliant start to the new year. The first of the duo,
March of the Zapotec
, is six songs that demonstrate the gypsy genius of Zach Condon well, six masterpieces that put on display the weathered brass, three-four time, and subtle glamour of gypsy rags Beirut listeners have become all too familiar with. In the second,
Realpeople Holland
, there is an element of pleasant surprise. Perhaps to satiate those few who may choose to complain about Beirut's consistent philosophy of sound or perhaps not, this second half of the album features a five-tracked collection of synth-meets-the-Mediterranean goodness. Beirut explores an M83-esque territory here, layering strains of harmonious synthesizer with Condon's melancholy vocals and the vibrato of a lone gypsy brass.
Still, it doesn't even matter to me how well-received this EP is, by myself or anyone. What matters the most, I think, is that this band is still making music and still coming out with new material. This release shows experimentation and growth in an artist that has restored much of my faith in music. To listen to Beirut is to listen to something beautiful being done to the indie genre, a general mass of pretentious masochists who listen to their dull music for the sake of the "indie cred" it might earn them. Zach Condon, though, with his circus of caravan ecstasy, is just making good music, music so fun, so playful, and so dark that it would invite a chorus of bodies to fall like the Mediterranean waves it's inspired by in rapture with absolutely no hesitation.



Bonus:


This video of Zach Condon singing on a stairwell just blows me away. His voice is so surreal. Go ahead. Fall in love.